Following the year that the agency MEDIAN introduced its unique cross-media project adMeter onto the market, a new development stage was launched. Not only does it measure television and radio ratings using the audio matching technology, but also measures website traffic on mobile phone devices, computers, notebooks and tablets. In addition it also successfully realizes pilot projects of undeclared print audience measurement and outdoor advertising. As of 1st of September the panel has been expanded to 1000 members. The measured data about consumption across the media from 1000 respondents enables media agencies to provide their clients with a much more effective campaign and subsequently a more effective distribution of advertising investments. The media can draw more valid analysis results from their communication via various media types.
"Measuring the repre panel of 300 respondents was a necessary step for us, one that enabled us to look at the cross-media indicators of TV, radio and Internet. Introducing the project and its data outputs using cross-media analysis proved useful to the media themselves, and campaign measurement informed media agencies and advertising campaign submitters," states Josef Fišer, adMeter project manager.
"In spite of the initial enquiries and doubts, it was discovered that the new data source proves very useful to our clients and has also added economic value. Nevertheless, we naturally faced obstacles when conducting analyses for our clients which required a cross-media perspective, stemming from the limitation of our panel. A typical example is an analysis of media types effectiveness in cross-media campaigns, where excluding television, the impact of other media types is rather smaller and thus does not provide an adequate sample of respondents for statistically significant results," adds Fišer.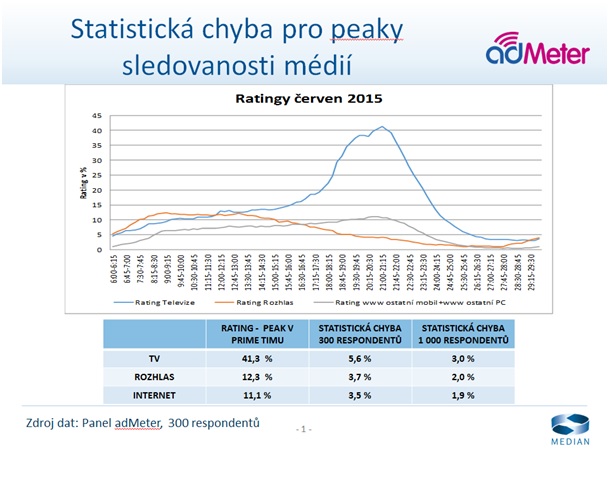 As a result, MEDIAN now has a representative panel adMeter featuring 1000 respondents. The representativeness is fully guaranteed not only by more detailed sociodemographic quotas of gender types, age, education, size of household or region, but an even more detailed monitoring of media consumption of individual media types, monitoring access to the Internet, usage of mobile phone devices by adMeter panelists and other forms of monitoring. This has succeeded in taking the adMeter panel to the same level as is required for official international media projects.
"We expect the new panel to provide our clients with robust and more stable data in terms of fewer mistakes in statistical outputs. In addition to this it enables them to understand more complex analyses such as show ratings which have their television, online and radio counterparts (e.g. Consumption of audio and video content across all media types, including archived shows). Online behaviour of television viewers, radio listeners and print readers. Naturally there is also the option to study the impact of campaigns on viewership and listenership of shows and analysis of commercial breaks. The key, and at the same time a unique option, is the analysis of effectiveness of media types and optimization tasks for cross-media campaign planning. The data enables a more detailed breakdown of media consumption in relation to location of consumption (at home or at work,…) multi-screening analysis and other very interesting studies," Fišer states some examples.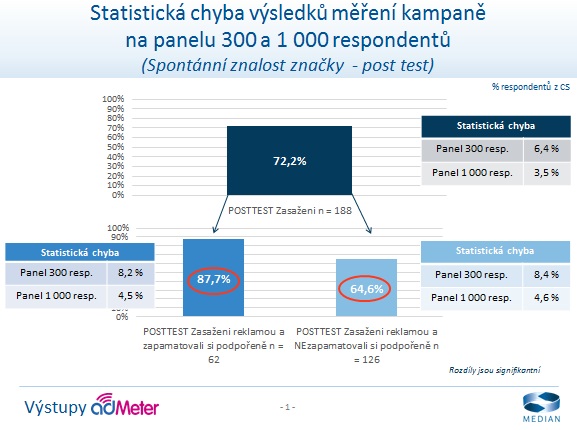 The main objective of MEDIAN in connection to the realization of the new panel is to provide clients on the Czech market with a stable, consistent and representative data source which they can use to perform cross-media analyses with reliable results.
"We are also finalizing new software tools for our clients, tools which will be on a much higher level featuring options of managing (analyzing and planning) cross-media data in a more comfortable user-friendly environment," Richard Beneš, SW department director of MEDIAN, adds.
Source: www.mediaguru.cz